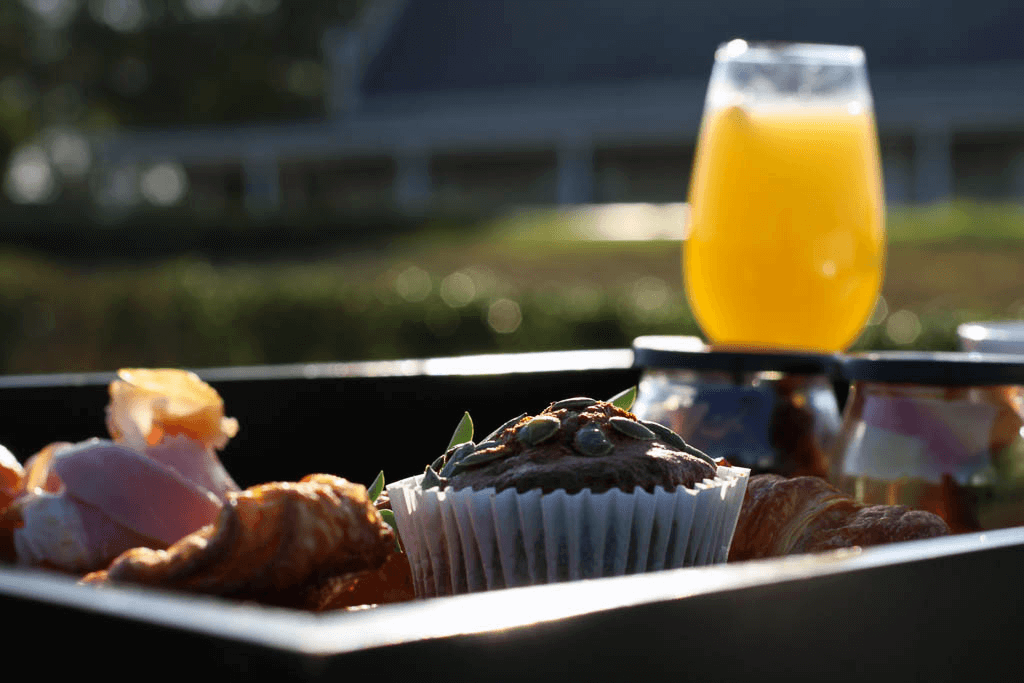 Caramelized or charred
No matter your cuisine preference, our Chefs strive to delight your tastebuds and feed your food fantasy on your culinary journey with us.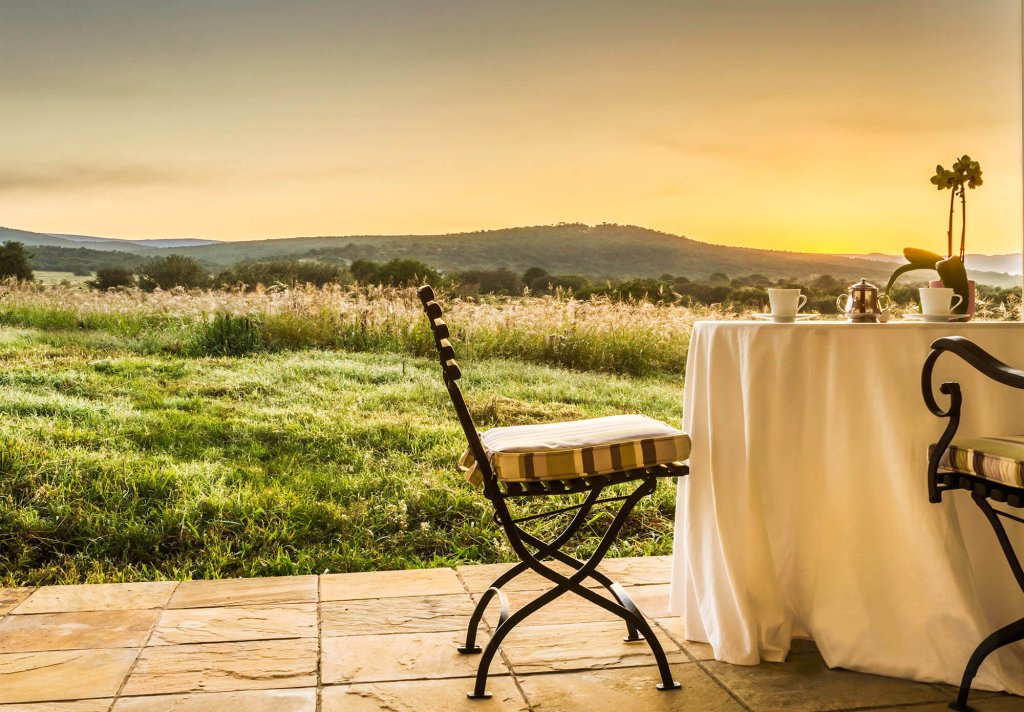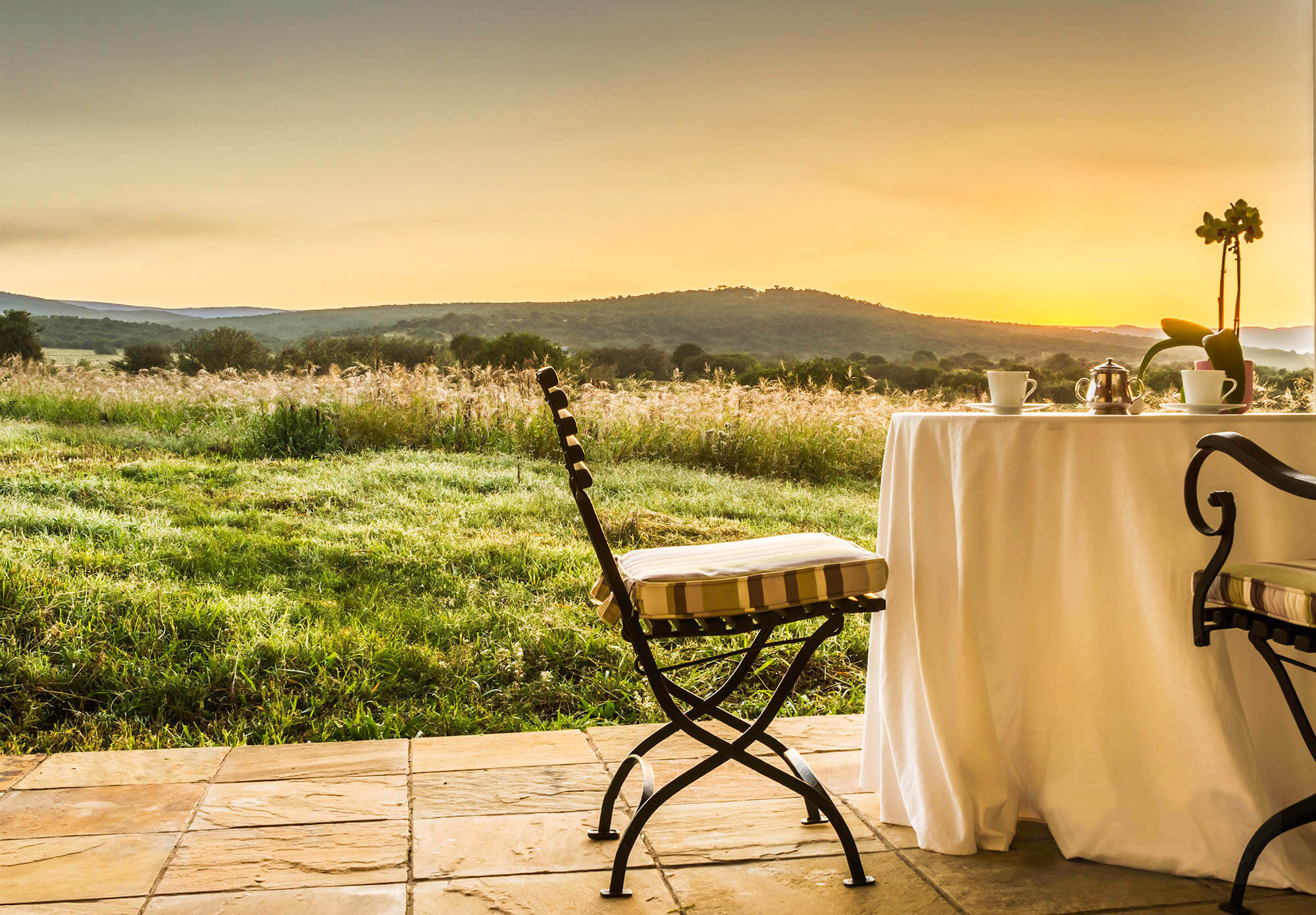 Sensational setting
Whether you enjoy dining by a cosy fire, indoors under a chandelier, watching the sunset or in the privacy of your luxury suite gazing out onto the beautiful Eastern Cape bush, we have the perfect setting for you to enjoy your meal.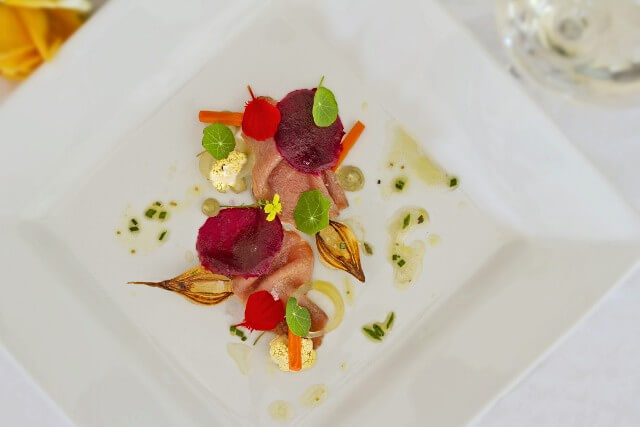 Options abound
We aspire to offer French cooking with a modern contemporary twist. Our cuisine will always provide you with options to choose from. Experience the flavours of classics served with our handpicked wines from around the country. A meal at RiverBend is a culinary experience.
Amazing place Friendly staff beautiful game drives we saw 4 of the big five in one place the lions hunting the buffalos very good food clean and comfortable rooms with big beds we are return guest because we now always what we get
Birding trip to River Bend Lodge We had a 2 night stay at River Bend Lodge Addo. Staff Profesional, attentive and friendly.Good birding and game viewing. Great field guides, good food and comfortable accommodation. Nyathi conservancy offers many varieties of terrain and different biomes.
Elephants at Dawn We had a lovely time our guide Christiaan was incredibly knowledgeable and went out of his way to find birds which we were interested in and not only the Big 5- food was great. All the staff were very welcoming and friendly at all times, We were lucky to be the only ones on our exclusive game drives with Christiaan which made it all the more personal- we hope to be back!
Amazing stay and excellent guide Recently spent 2 nights at River Bend Lodge. The suites are large and comfortable with everything you need. Our guide, Christiaan, took us on 4 amazing game drives . He was friendly, very knowledgeable and an excellent driver. You need to say what you would like to see and they will do their best to ensure that you do! Morning coffee and sundowner drinks and snacks were included on all drives along with hot water bottles and warm blankets for the early starts. We were treated to an impromptu extra drive as the lions were close by and buffalo were approaching them, they thought there might be some interaction, but sadly not. The scenery is stunning, very different from the rest of Addo. There are only River Bend Lodge vehicles in this area of Addo so no crowded sightings, it feels like you are the only ones there.The food at River Bend is outstanding, the chef came to see us each day to say what the choice was for the evening meal. Breakfast started with granola, fruit, yoghurt, croissant, meats and cheeses followed by a cooked breakfast. We couldn't manage lunch as we had such a large breakfast!All the staff were pleasant, helpful and friendly, nothing was too much trouble.Highly recommend a stay here, it is well worth it and we hope to go back on my next visit. Thanks for a wonderful couple of days.
Magical stay We stayed at Riverbend Lodge for 2 nights and what an experience. The scenery was incredible, feeling really at one with nature. We took every opportunity to enjoy the game drives and Leo our guide was so knowledgable. The staff at the lodge were so friendly and made us feel so welcome. My dreams came true when we got engaged at the lodge- a wonderful celebration, with the team going above and beyond to make it so special for us. We can't thank them enough. We'd highly recommend staying in this gorgeous lodge, and we'll definitely be back.Thanks to all the team Grace & Dylan x
Amazing Lodge Well trained and always polite Service. Great und succesfull Game Drives. Delicious kitchen. Phantastic private pool. Wonderfull beds. Villa was always clean and safe. Manager regularly asked if she could help us. We would go back in a heartbeat !
Two night stay at an excellent luxury lodge. As would be expected for a five star lodge in South Africa, the lodge and all the facitilies were excellent. As a person who spent most of his working life in hotels I was impressed by the standard of the accommodation and the public rooms.For me, as an enthusiastic but amateur wildlife photographer and birder the highlights were the Game drives, (we did four!). The guides were friendly and very well informed, (and very good drivers on rough roads) it wouldn't be fair to mention names but you should mention what you would like to see on your game drives, especially if you want birds. This is wildlife so nothing can be guaranteed but this area of Addo runs right into the heavily forested mountains so is very different to the main camp areas of Addo.I have been a regular visitor to Addo for over ten years but did not realise this amazing place existed. There are no other vehicles in the area so it feels like you have this to yourself, all 14,000 hectares of it.All in all we felt it was good value for money and will be visiting again.
Oasis We were so fortunate to have the whole to ourselves and we were thoroughly spoilt. Debbie and Ryan were very kind at check in and check out. Darlington was so lovely on our game drives and so knowledgeable. The food was delicious and beautifully presented. Our honeymoon suite had its own pool and that is just wonderful. Definitely worth a visit.
An unforgettable experience We had a wonderful time in the lodge. The location is very unique and the honeymoon suite with its own pool and outdoor shower is highly recommended! The safaris with Leo, Chris and Darlington were exceptional and they did their best to give us an amazing experience. Debbie is a great host, but all of the staff were very accommodating, eg Moses was a real great bartender. The food is fantastic and breakfast at the waterhole is simply wonderful. Sometimes the herd of elephants passes by and you are speechless. Book it now - the only thing you'll regret is not doing it!
5 star personalised luxury: world class game lodge without the stiffness often associated with 5 stars! The lodge provided the most customised and exciting game drives I have ever been on, absolutely unforgettable and stand out amongst the 40 or so game drives I have had. My aged parents, aunt, my husband and I had 3 days at the magnificent Riverbend Lodge in Addo. From even before we arrived, the attention to detail and customised service was second to none I have experienced either in SA or abroad. Usually priced for an international audience, it was such a privilege to receive this phenomenal level of care and attention from fabulous local staff. The food is top notch and consistently good – 4 course meals, the best home-made granola I've ever tasted (they gave me a bag to bring home so the luxury will last this week), absolutely no expense is spared. One gets assigned a personal guide who custom-makes each trip. Our guide did so with humour, compassion (my father was very grumpy and uncomfortable) and he was hugely knowledgeable to boot.Staff: Debbie is hands-down a class act and runs the lodge like the pro she is. Each staff member wears their name badge proudly, is clearly happy in their job and is well looked after (difficult for owners to do well in the best of times, astonishing that they have managed to keep most staff on during Covid when our borders were closed, albeit on reduced wages in lockdown). I felt the lack of hierarchy in the staff was really impressive as one feels they are all one team. People often mistake hierarchy for discipline. I am not going to single out any particular names as everyone we encountered was equally brilliant and I think the pride they take in jumping in and helping each other is a huge part of the success. There were two chefs who alternated making meals which were unbelievably delicious.I think there are 3 particular aspects which take 5 star accomodation from being really good to brilliant:1) The mark of a really good establishment is how impressive staff are when the owner is not around. If the owner is ill or away, one should experience the same level of care and attention to detail as when a manager is present. Debbie has trained and empowered her staff to take decisions and build individual relationships with customers. 2) However much money one is spending, some people do not like formality. The staff members were able to quickly gauge that we preferred not being waited on hand and foot as it makes us uncomfortable and we anyway prefer pouring our own wine. When we told them our names and asked them to use these instead of the 'mam' or 'Mrs X' they started off with, they were happy to do so. As it should be at a top notch establishment, the default of all staff members was to start formal. Being authentic and honest is another mark of excellently trained and happy staff.3) Finally, when staff are able to accommodate changes to their usual way of doing things but with the same level of discipline and attention to detail that they employ in their normal logistics with clients, it is very unusual and I believe quite unusual.My dad has dementia and is not easy. My mom (whose birthday celebration this weekend was) was ill on the journey to the lodge and it went downhill from there. She spent the first two days feverish and being sick and we were all extremely worried.Because of my dad's dementia, we had booked the three-bedroomed cottage with generous communal spaces for the guests – kitchen, open-plan dining room, TV room and a generous verandah with a dining room table as well as comfortable outdoor lounge furniture. I had wondered if this was overkill as my dad has perfect manners but tends to speak very loudly as he is hard of hearing and has stopped managing hearing aids. As is often the case at lodges, the norm is that all guests eat breakfast and dinner at their own table in the main communal restaurant. We managed the first night but it was really clear to me that my dad was struggling and I asked if breakfast the following morning could be delivered to our cottage. As it turned out, the cottage was a godsend as my father, who had been eating less and less, stopped eating and drinking and my mother was too ill to be left alone. I assured staff they could simply drop the food off and I would reheat it etc. We had 6 four-course meals this way - the table set, delivered, the washing done later.Game drives: we had 3 of the most unforgettable game drives I have ever experienced. The pics tell it all so I won't waste space on that – lions, hundreds of elephants from the cutest newborns to old leathery patriarchs, in every conceivable setting, rhinos, warthogs, masses of birds and so much more. Game drives were supposed to be 2-3 hours. One went on for 5 hours as we bundu-bashed through a jungle (with our permission) to get to where the lions had been sited. I have rarely had such an exhilarating experience and I have been on many game drives in my life.Feel free to direct message me if you have any questions.